Quilts and other projects finished in 2013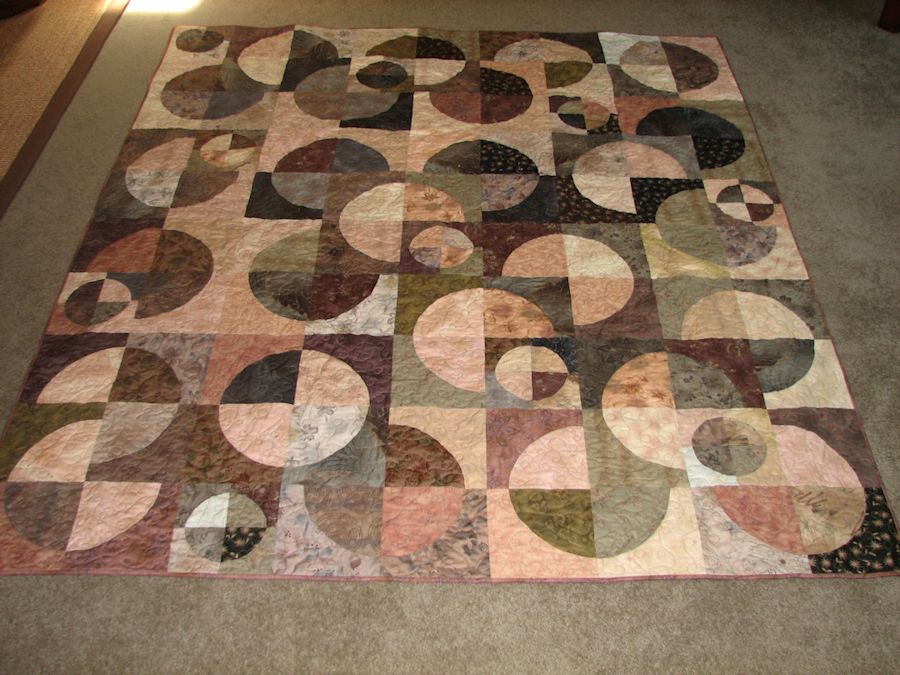 Made this quilt back in 2007 for dil. I love the Daiwabo fabrics, and the pattern, so I had to make another one for myself.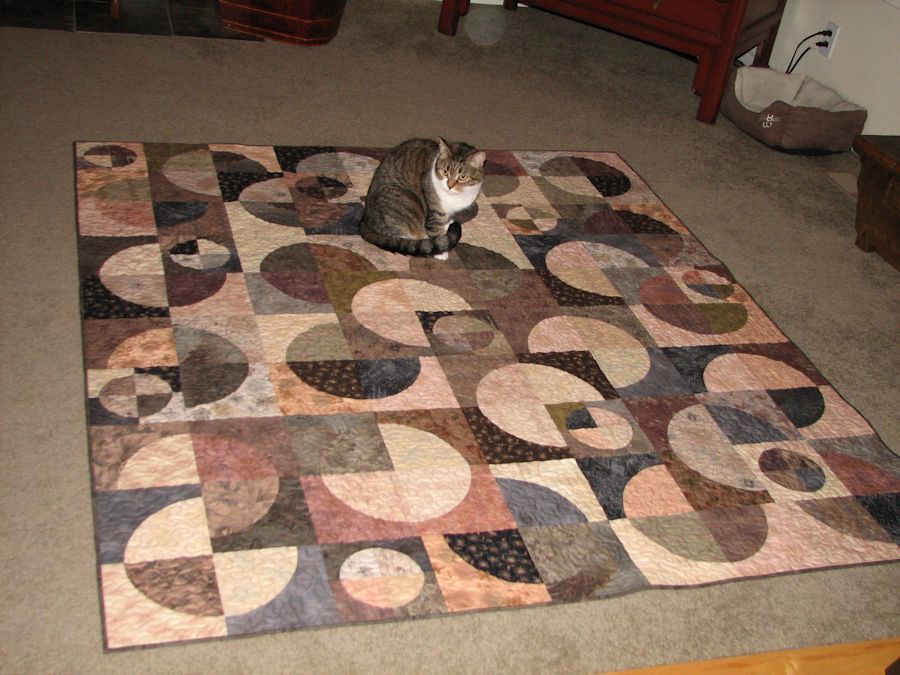 And one more for my dil's mother. This one took quite a lot of time to quilt, because of machine problems.
As usual, Lizzie has to test it out when it's done, although I managed to sneak in a picture of mine (above) while she was out of the room.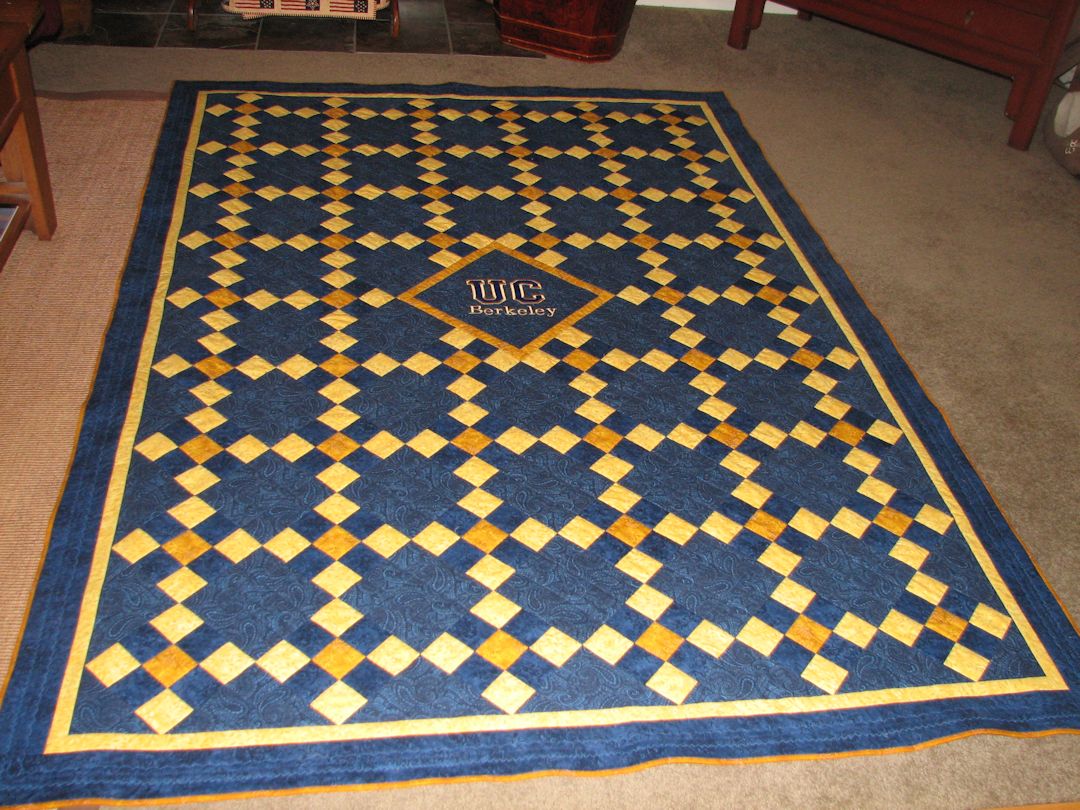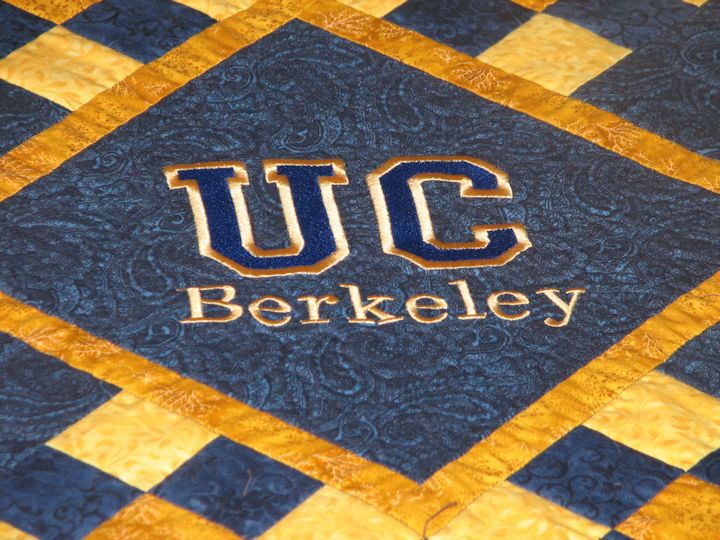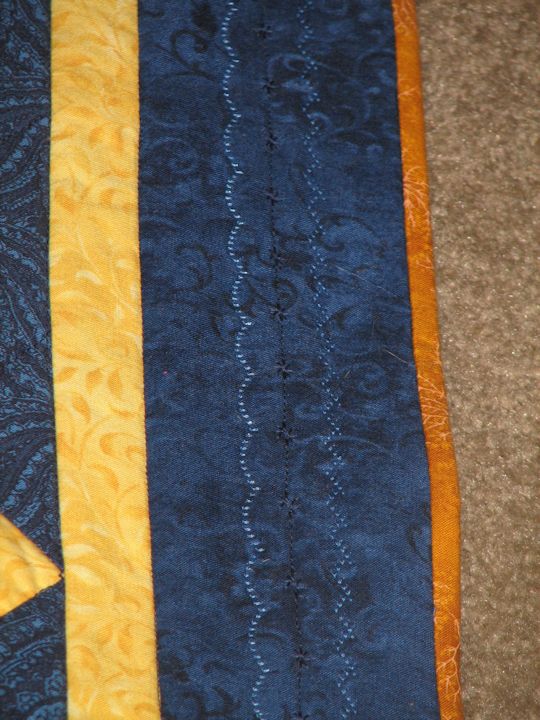 This quilt is for my granddaughter Zoe, who is starting at UC Berkeley this fall.
Machine pieced, embroidered and quilted.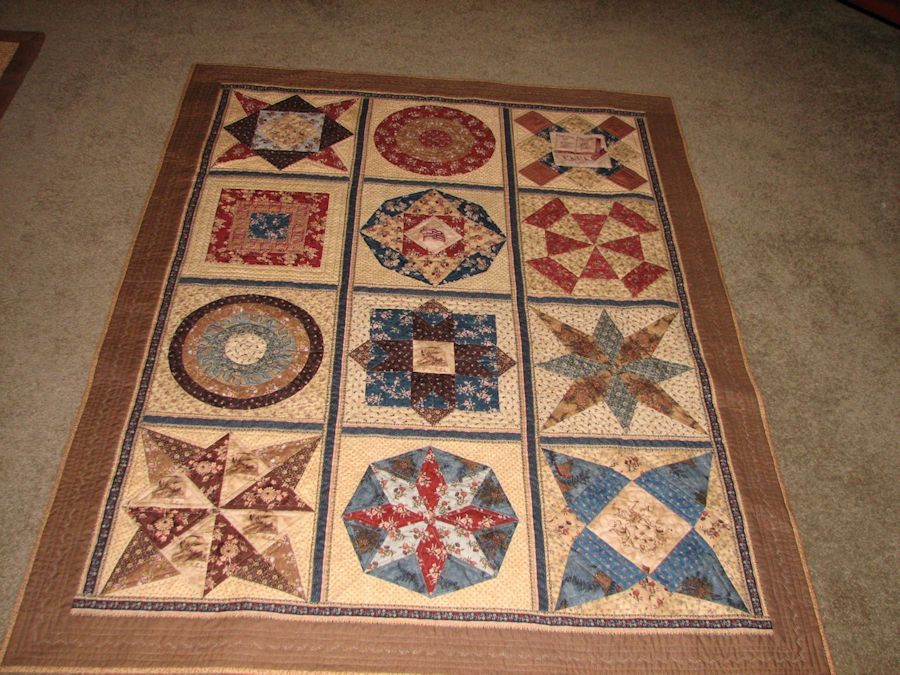 Pennock Album Quilt
Went to California in May of 2010 to test out our new RV.
I found a stack of Fat Quarters at my favorite reproduction fabric quilt shop "Timeless Calico Designs" in Sonora.
All the blocks except Block 3 in row 1 (top right hand corner) are handpieced. The sashing and borders are machine pieced.
Each block is quilted with echoing, stippling and top stitching. The border has a line of decorative stitching. Quilted by machine.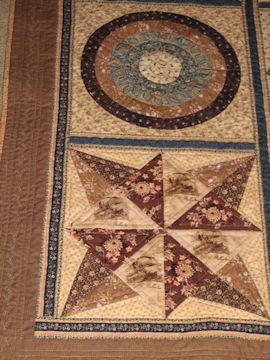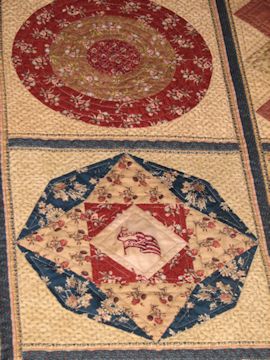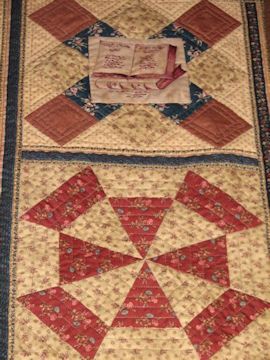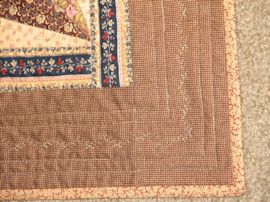 The Pennock Album Quilt is thought to have been made by Isabelle Pennock Lukens for Sarah Wistar Pennock of Philadelphia and Chester County PA.
This quilt, which the fabric collection has been derived from, is a fine example of template piecing and includes a wide variety of early to mid 19th century printed cotton fabrics.
Ink drawings and handwritten names decorate the squares along with the dates of 1842 and 1843.
The Quilt top is an important part of Chester County's vast quilting heritage.
Elaborately pieced or appliquéd friendship quilts, vibrant crazy patterns, and plain utilitarian quilted bed covers
are among the many quilts made in Chester County for the past 150 years.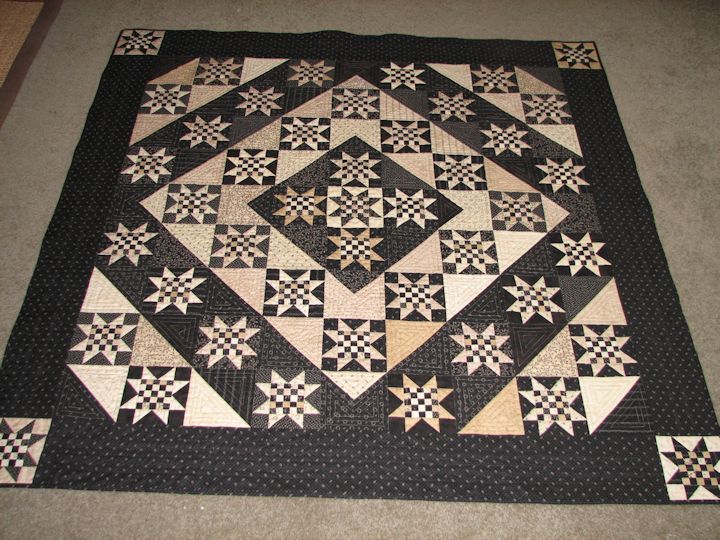 I saw this quilt at Hollyhill quilt shop in Oregon, but they were out of kits. Found it online at the source "Primitive Gatherings".
Echo quilting in the triangles was a never ending job, but I do like how it turned out. Finished November 8.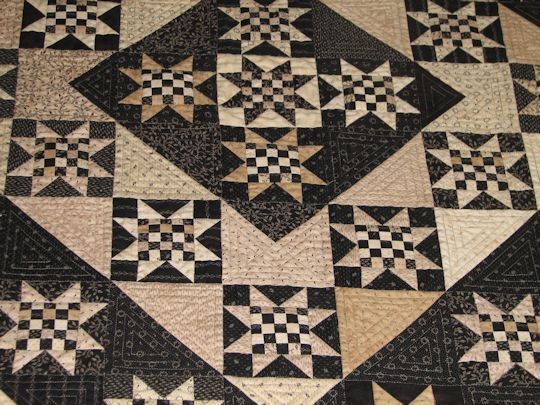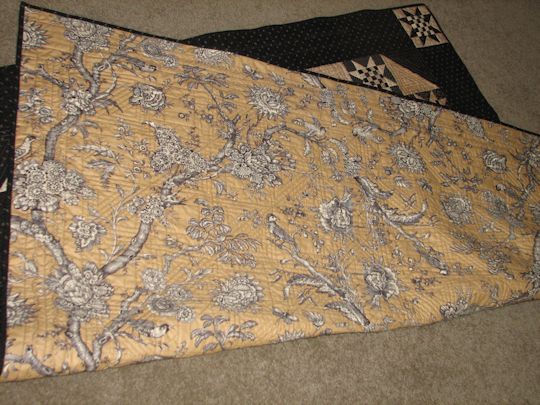 I think I might like the fabric on the back even better than the front of the quilt.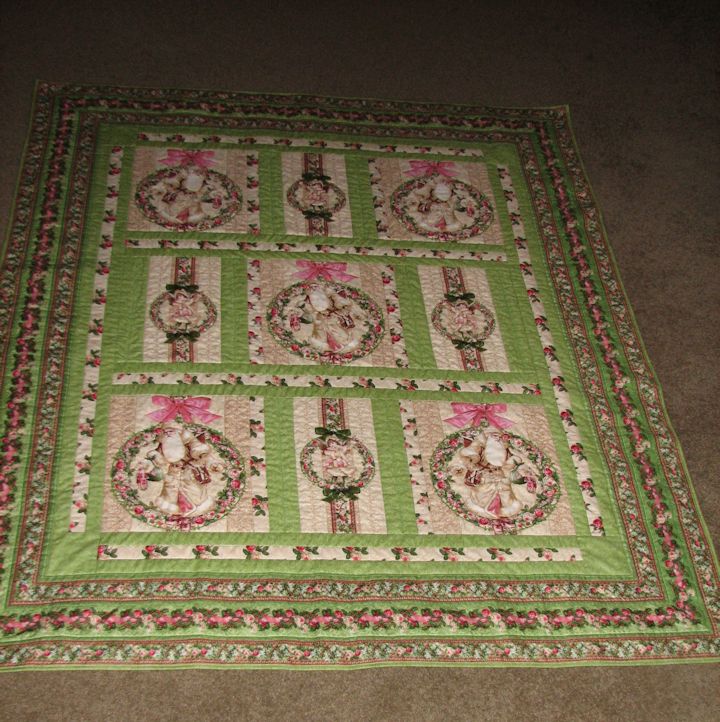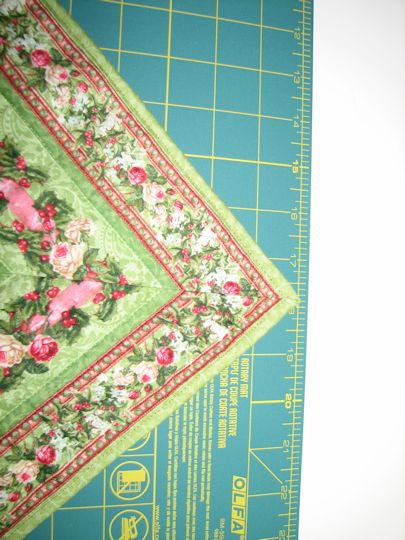 A Christmas quilt which was a kit ordered through a magazine in 2008 or 2009.
First time I used my Bernina binder attachment, and I'm pleased with the results.
Finished, November 17, 2013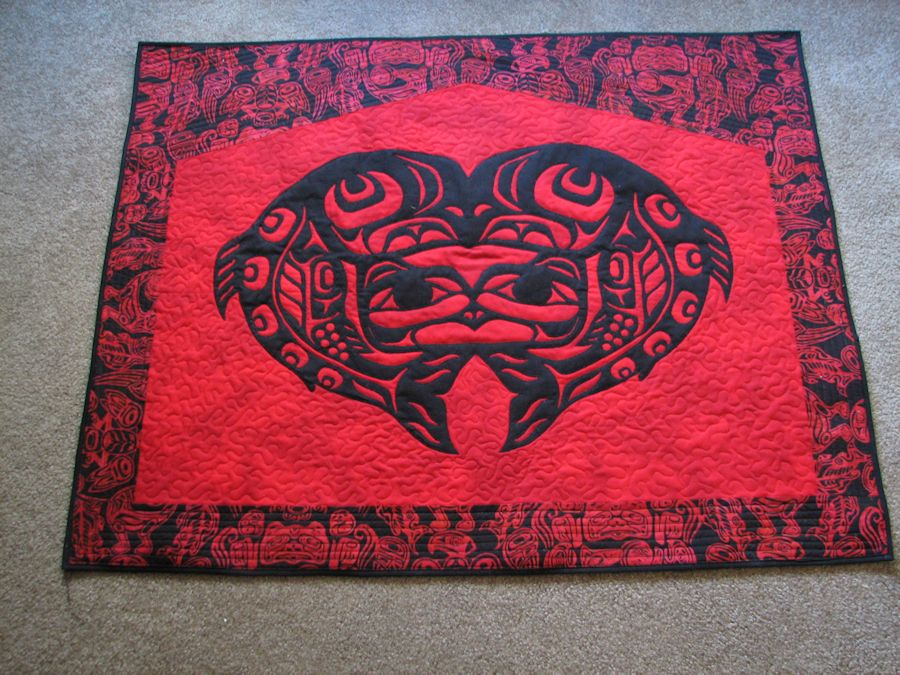 I bought this pattern and fabric in Sitka, Alaska. I made one in this colorway in 2010, for Ed and Barbara Kousky, and one in black and tans for my Anthropology Professor.
The pattern by Lisa Moore is from an original totemic woodcut by Tommy Joseph, a Tlingit wood carver.
In this version I did the blanket stitching around the mask with my Bernina 830LE, and that made the whole process much faster with the foot hover function.
I also free motion quilted without the stitch regulator, and I used the binder attachment for the binding.
Finished November 21, 2013