Quilts and other projects finished in 2014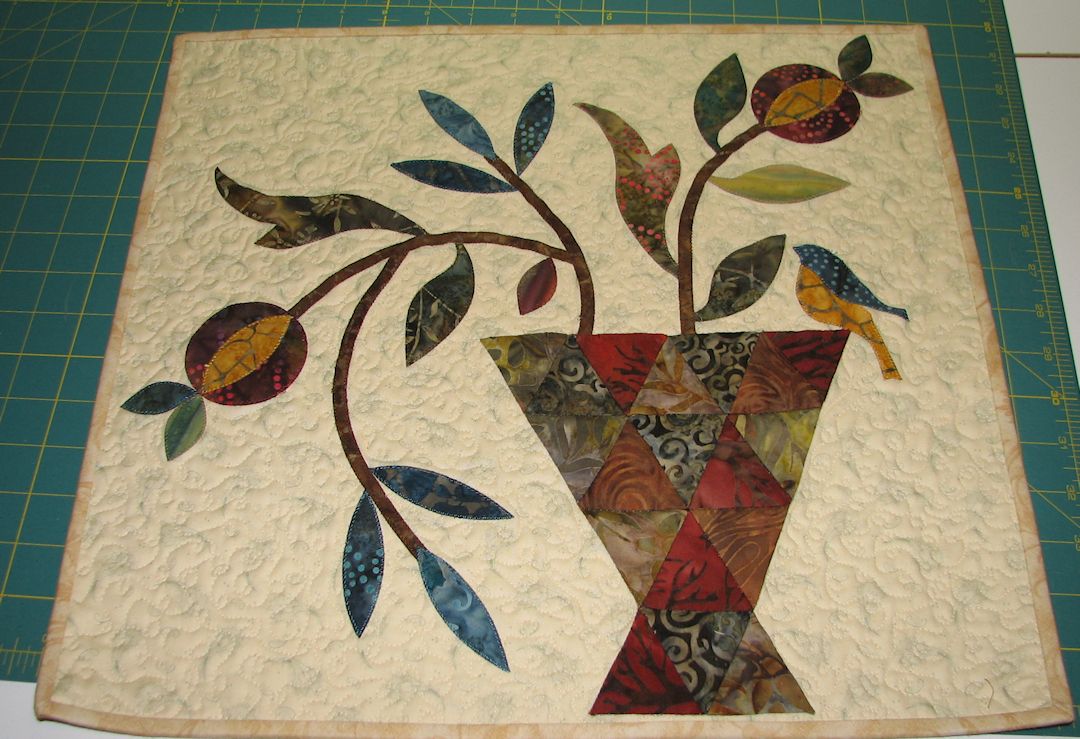 I saw this quilt as a framed picture in a quilt shop in Tucson. All I needed was a few fat quarters of batiks and the pre-fused and cut applique pieces.
The background and backing I found in my stash, and the batting is also scraps. All in all a quick, bright and cheery (and cheap) little quilt.
It has found a spot on my laundry room wall. A touch of elegance, in a dull and boring space.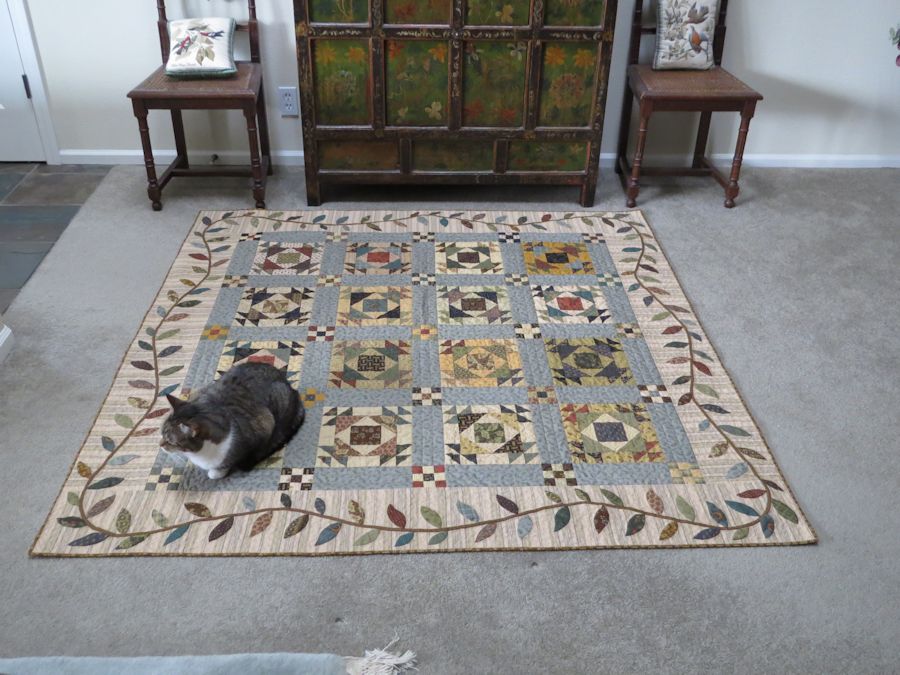 This quilt pattern called One Vine Day, is from The Quilted Moose, a quiltshop featured in the Fall/Winter 2007 edition of Quilt Sampler magazine.
The top was finished on 28 June, 2009, and the quilt was finished on February 10, 2014.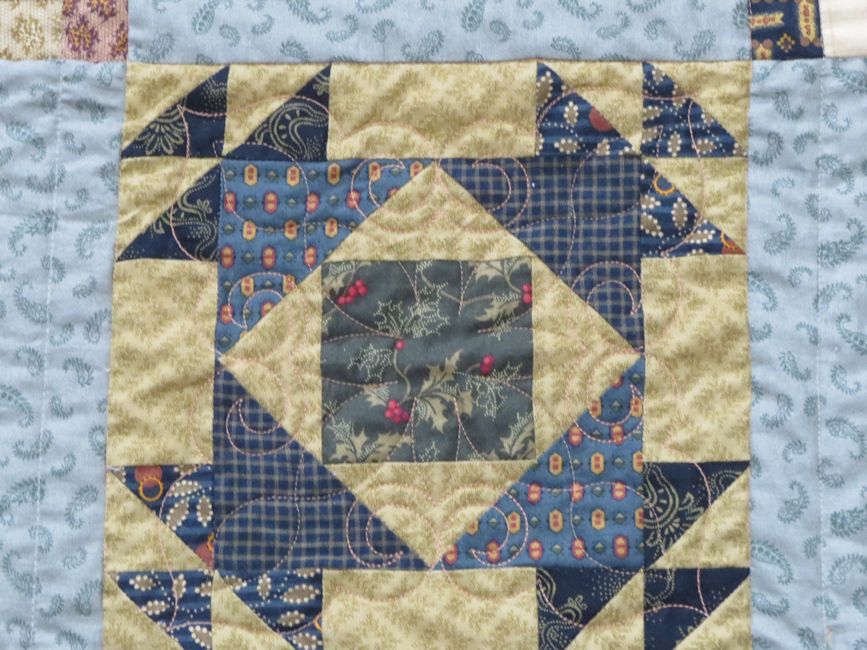 The blocks are done in the hoop with my embroidery unit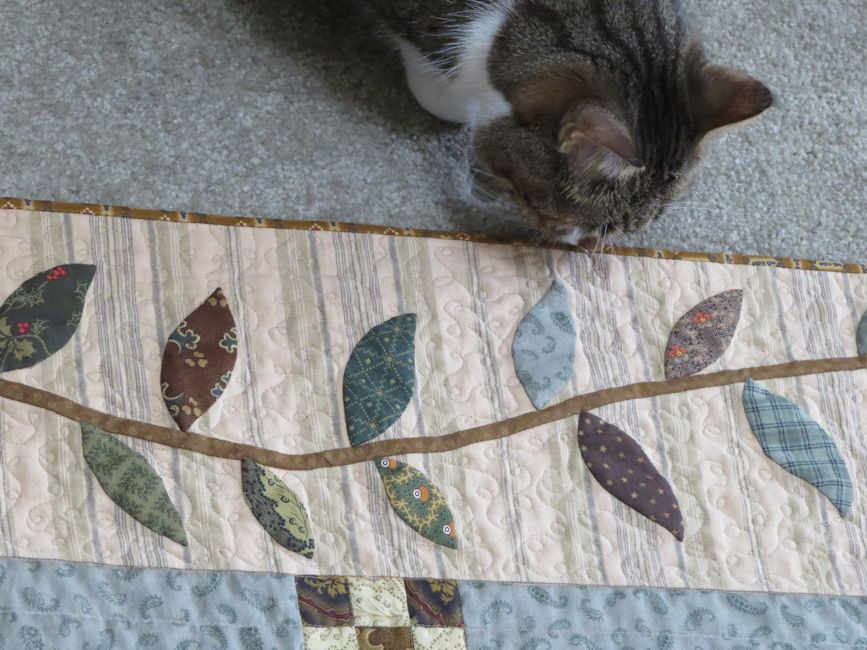 The border was free motion quilted.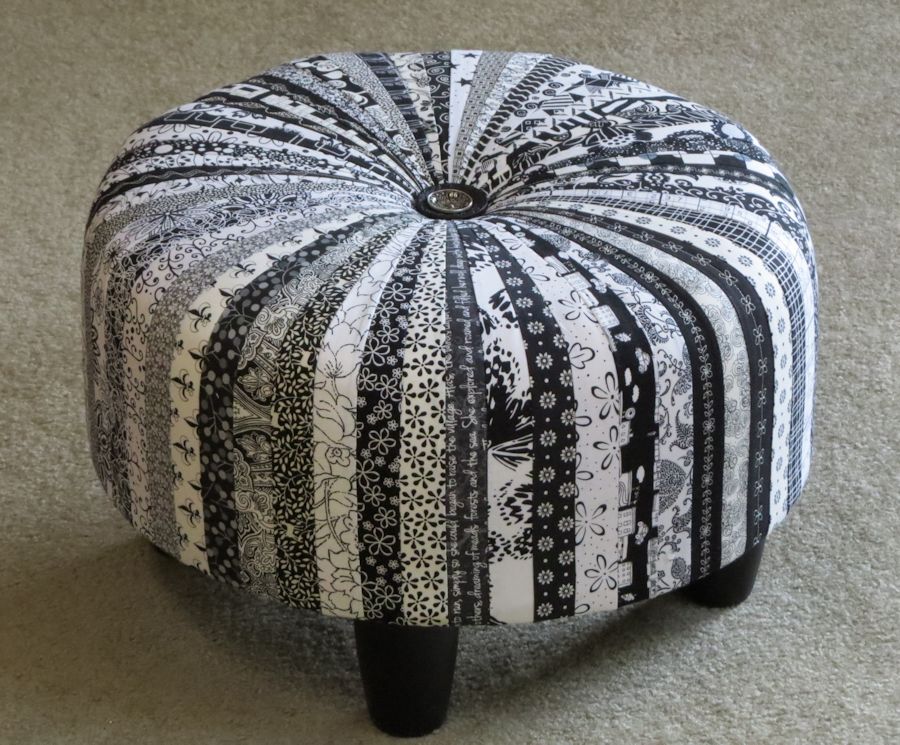 This footstool was a class at Piece by Piece in Eugene, OR. I had been collecting black on white and white on black fabrics, and here is the result.
Finished on February 24, 2014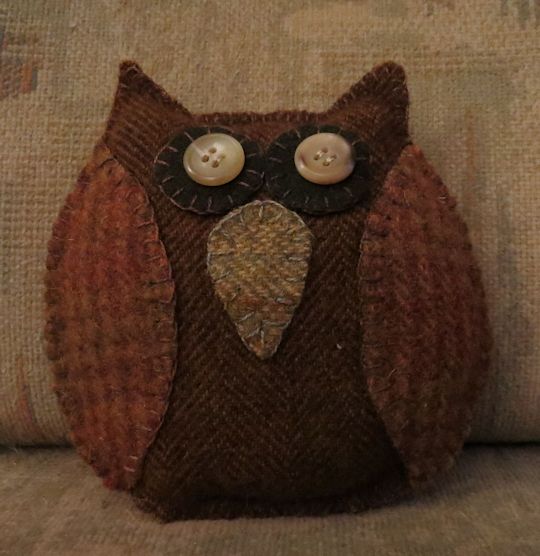 Made this for a friend in Holland who collects owls.



And then it was time for potholders, lots of potholders, and a double oven mitt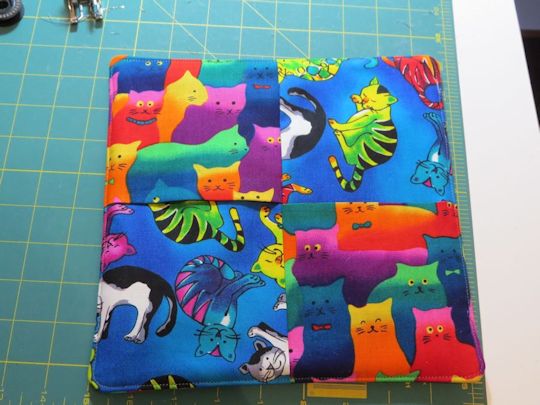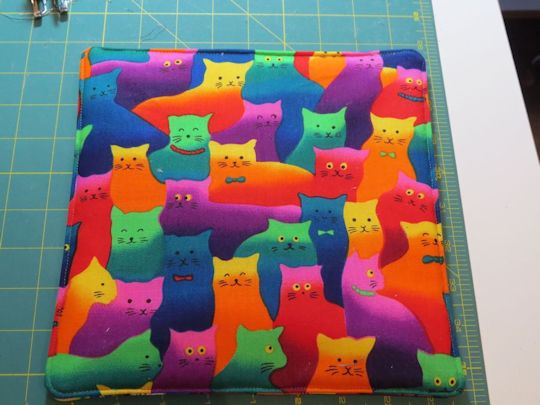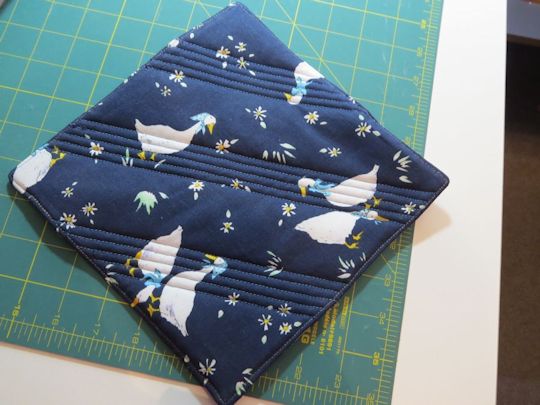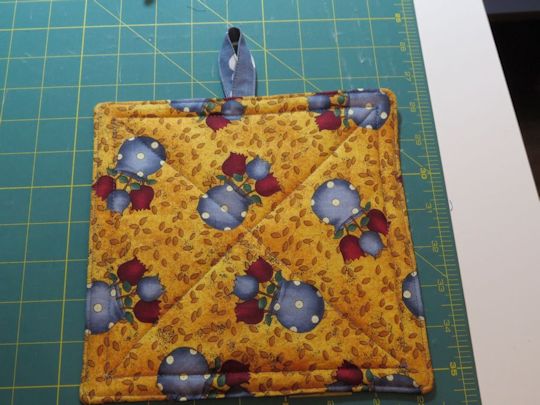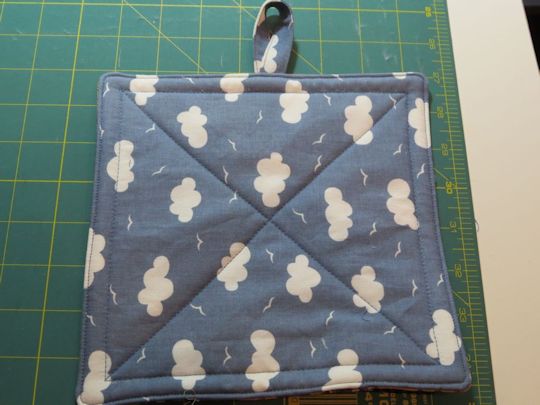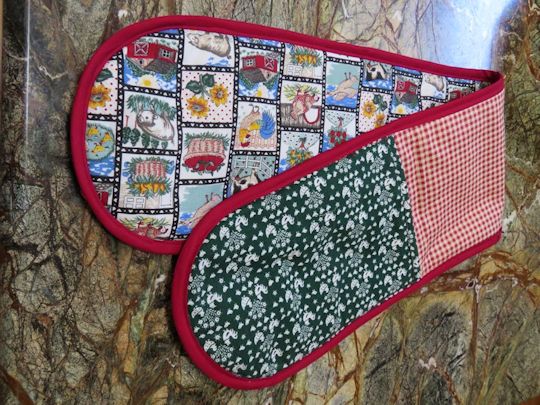 Next are bags, large and small.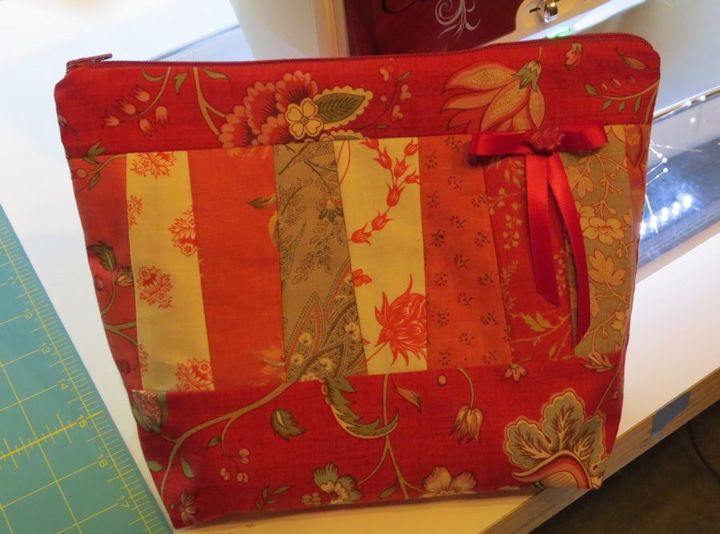 This make-up bag was quick and easy to make, and I love the colors of the french general fabrics.
I gifted it to my Mom for Christmas. I knew she'd like the colors.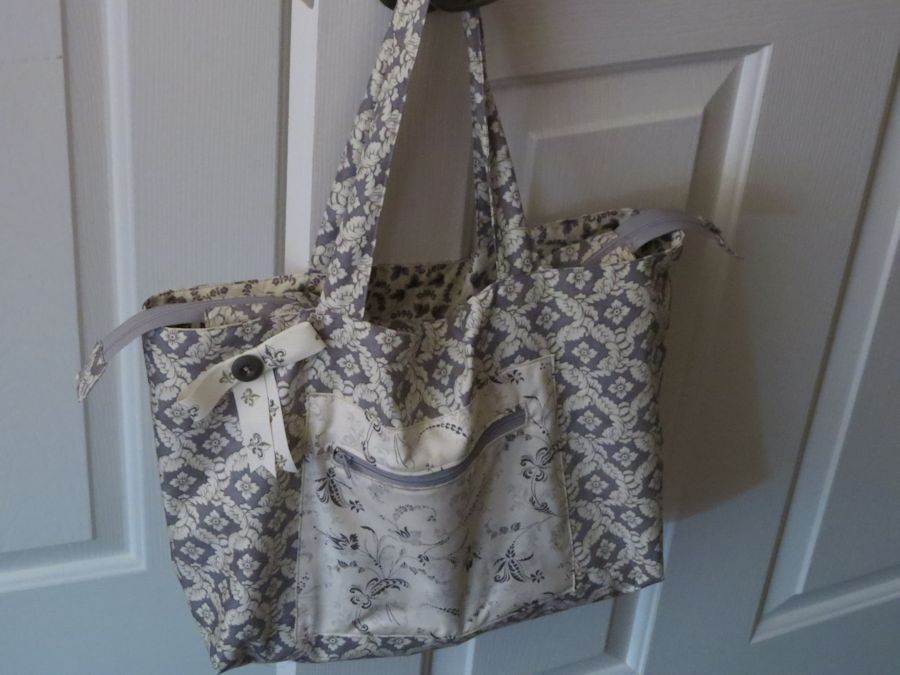 Tote made with fabrics from my stash.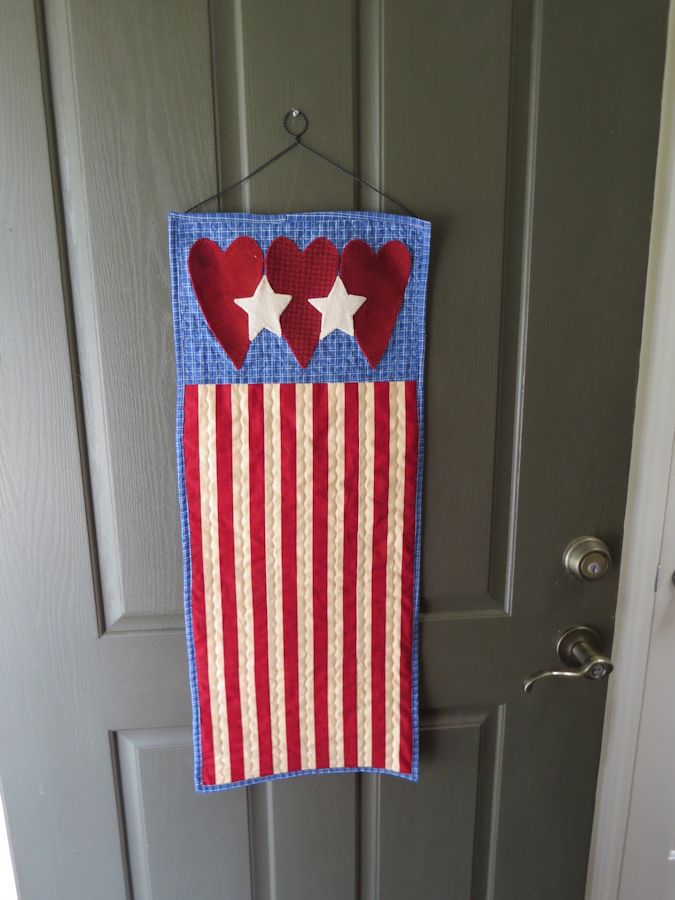 Found this pattern in the Primitive Quilts magazine. Made from scraps.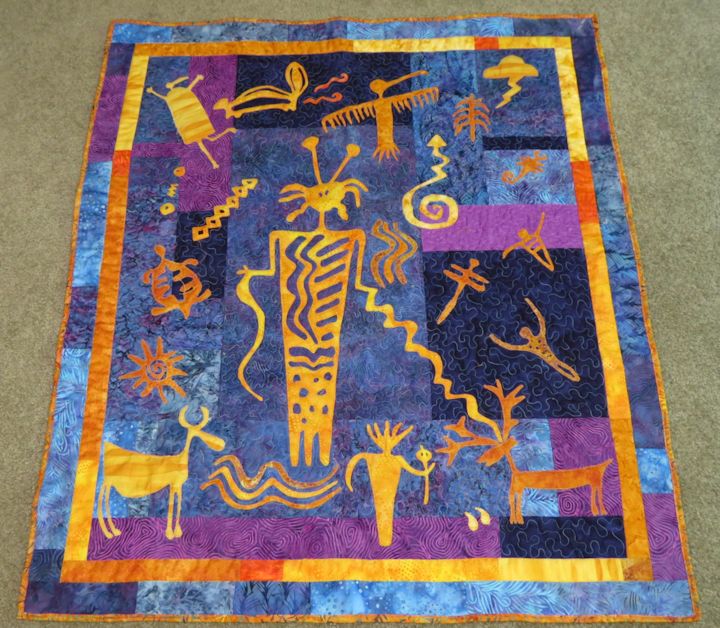 This pattern I bought in Sedona, AZ in January 2014 I fused the appliques and machined around them with a buttonhole stitch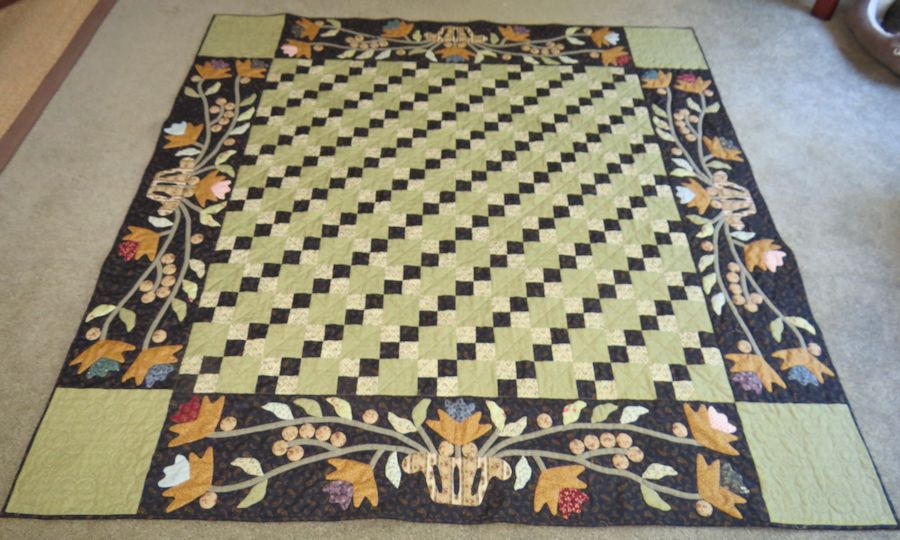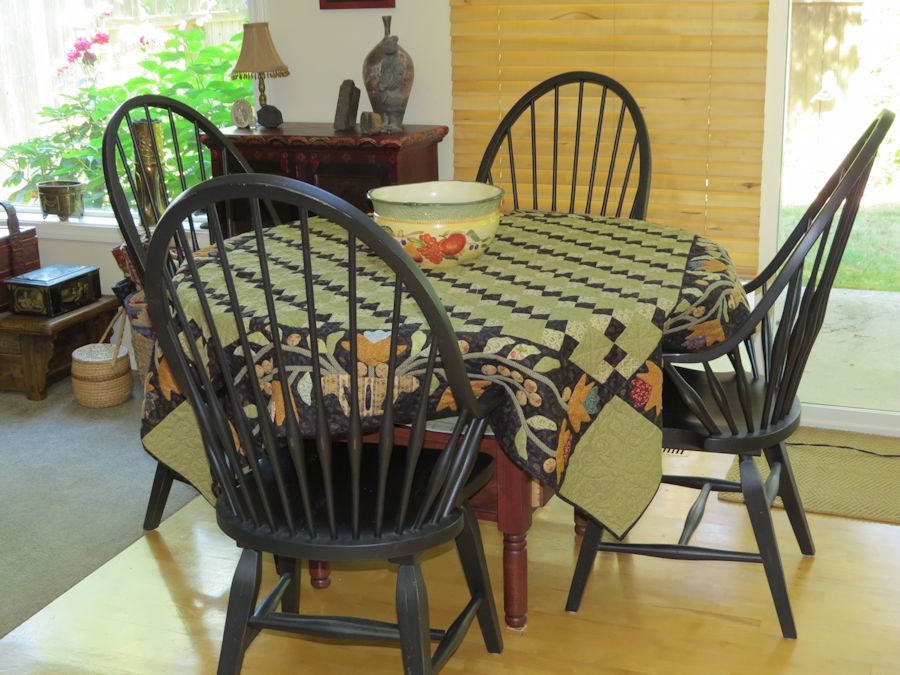 Bought the fabrics in Washington in 2010 or 2011 The pattern is called Checkerberry Bliss, from a book by Kim Diehl.
The middle checkerboard section is machine quilted. The applique is needleturned, and handquilted.
The corners are machine quilted in the hoop using the embroidery module of my machine.
Finished September 2014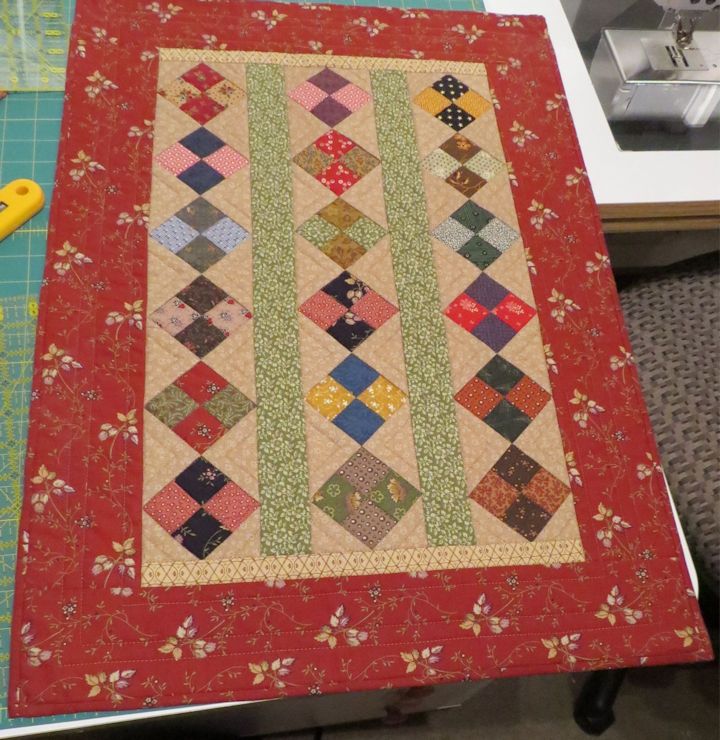 The kit for this little quilt (17 1/2 x 27 1/2) was bought during a trip to The Dalles in 2011. Finished Sept. 28, 2014
I'm calling this quilt "India", because the colors remind me so much of those I see in the pictures my son sends from there.
The original pattern by Jo Morton is called Small Steps, and was a block of the month. Machine pieced and quilted. Finished Sept. 30, 2014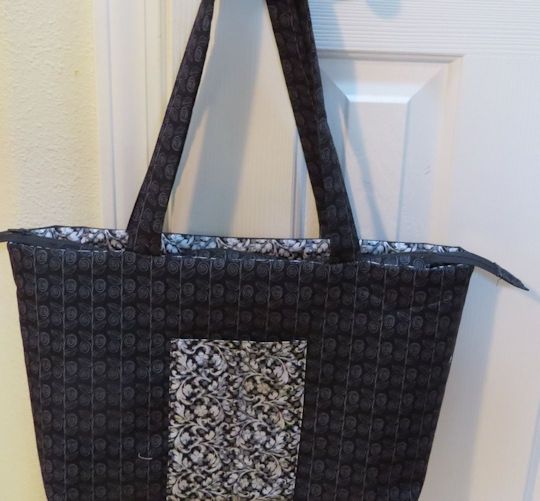 Bought the fabrics in Sisters summer 2014, and finished the tote in October 2014. I did make the handles longer and added the narrow pocket on the back.
Also made a fabric covered heavy stabilizer "board" for the bottom of the tote, and interfaced the handles.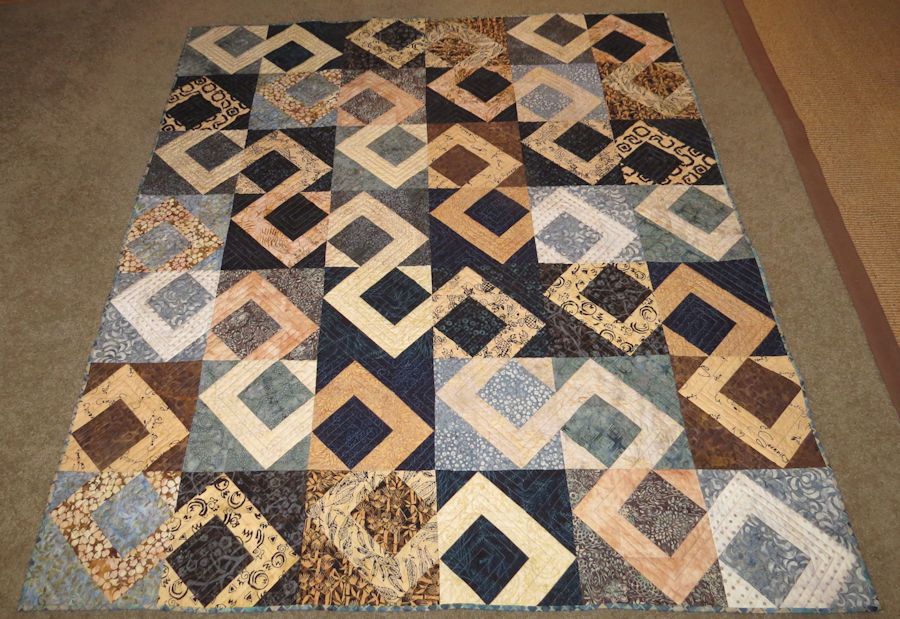 Bought the kit for this quilt in Boise, Idaho in Sept. 2014. It is called the Road Less Traveled. Finished November 15, 2014
February 2018, I gifted this quilt to a friend we've known for more than 25 years.
She's been fighting a long and tough battle, and I hope the quilt will give her a little boost to continue that fight.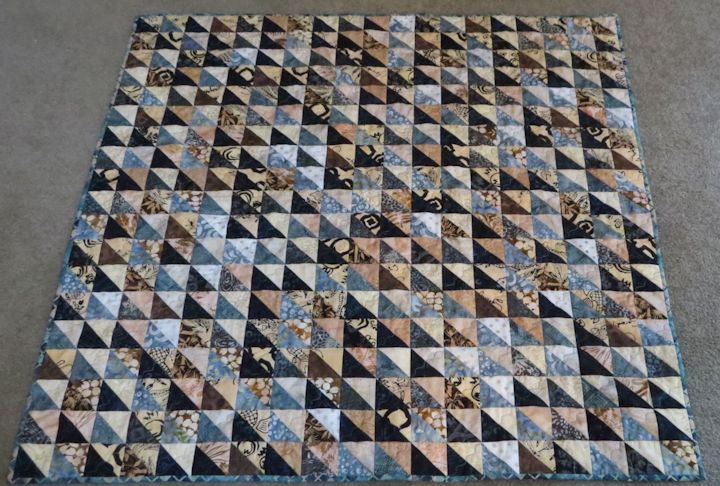 The triangles cut off when making the quilt above were used to make this 39 x 39" half square triangle quilt.
Finished in October of 2014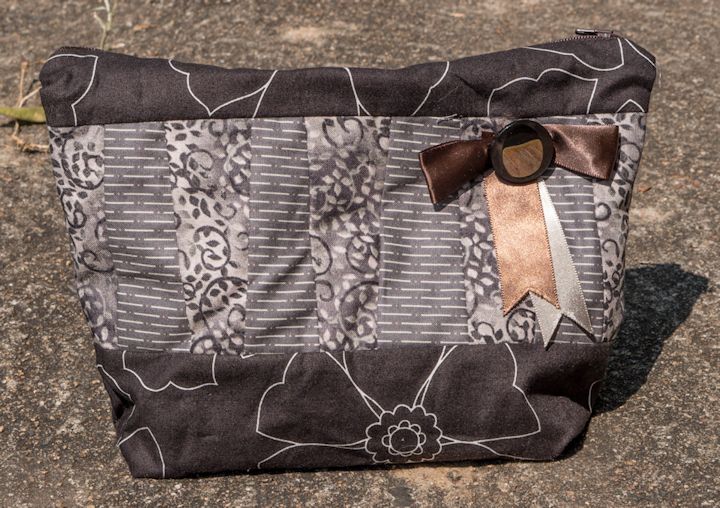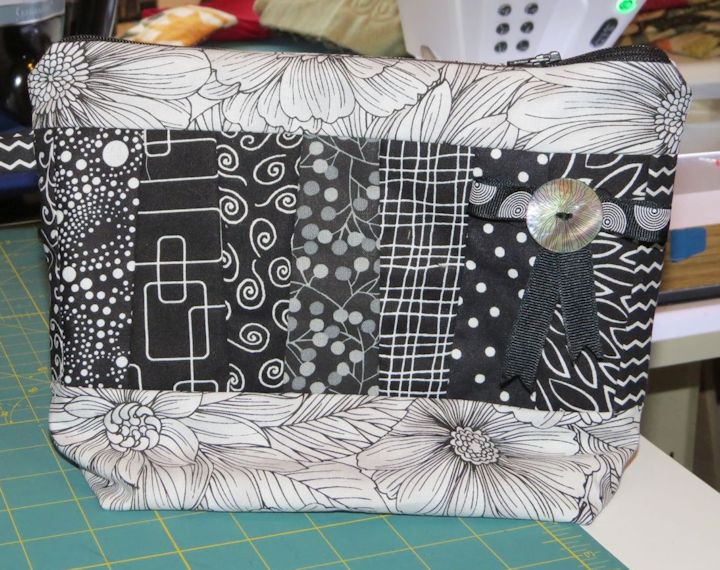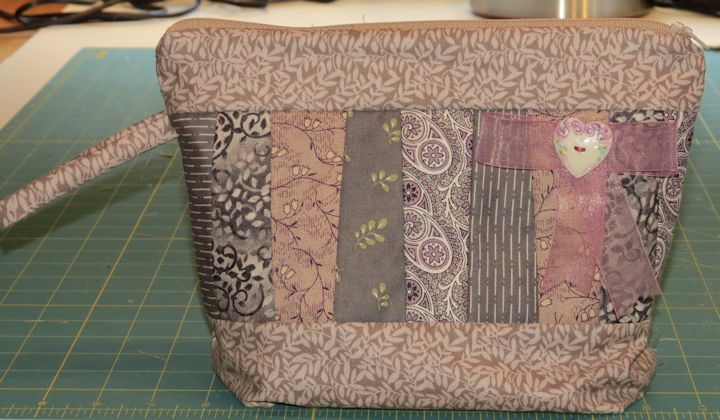 I made these little makeup bags for my grandaughters and daughter in law for Christmas.
The one for my daughter in law is looking a bit squished, but that's because my son had to take the picture, and what do guys know about fluffing.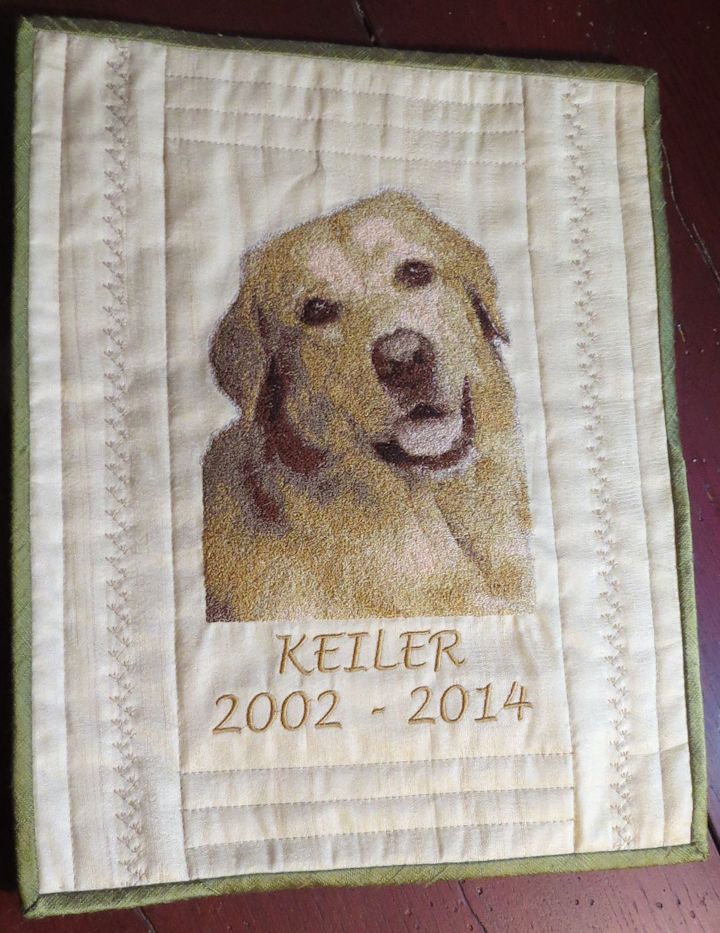 This embroidered portrait was made for Tom and family as a remembrance of their dog Keiler who passed away this year.