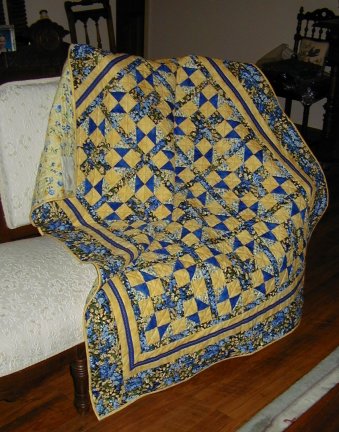 This quilt was made for my sister Fran. Finished July, 2004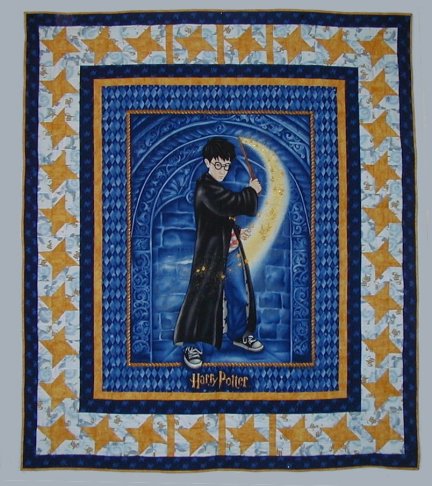 My granddaughter Zoe read all the Harry Potter books by the time she was 9.
I made this quilt in honor of her 9th birthday and her love for reading.
December 13, 2004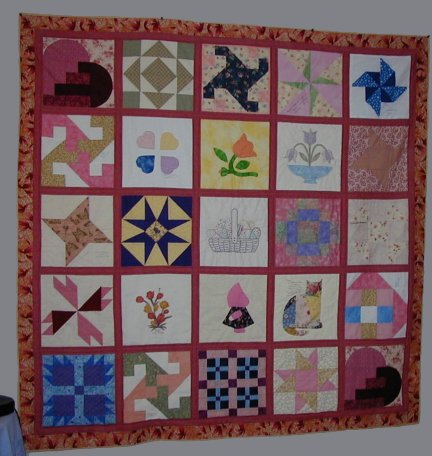 This quilt was made for me by some
of the ladies from my quiltchat group on IRC
It was done as a comfort upon the death of my father.
It is very special and I will treasure it always.
Thank you all for your kindness and friendship.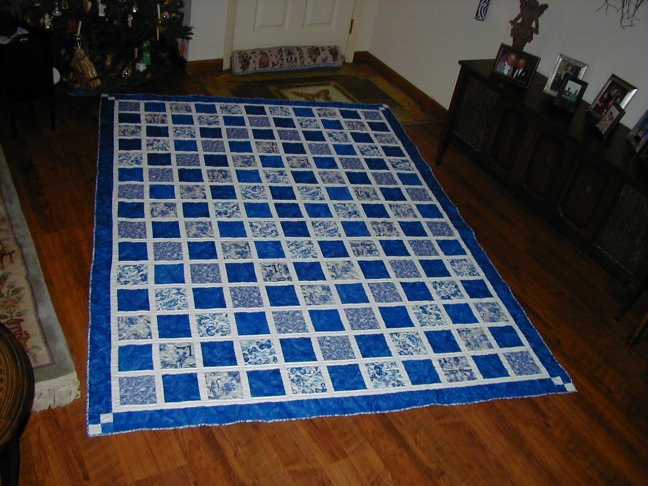 This quilt was finished on January 1, 2005.
It was designed on EQ by a chatter named Vixy.
Some of the fabrics are royal doulton archival prints.
It is 72x97. It is my first bedsize quilt.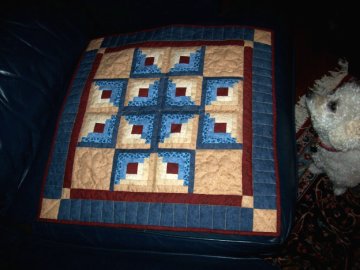 My first miniature quilt which was a lot of fun but more difficult.
Since it was small I could indulge a lot of handquilting.
January 2005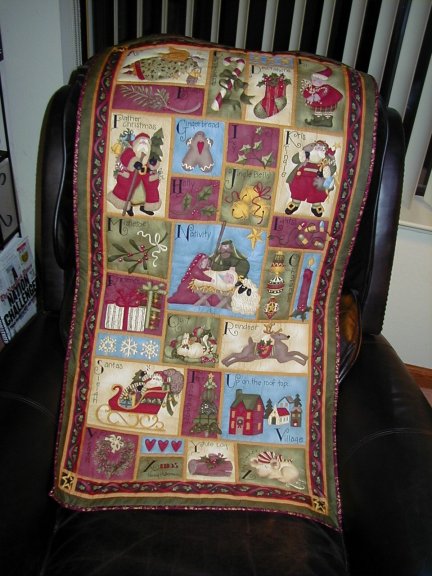 I bought this xmaspanel in 2003.
I quilted around all the motifs, matching thread colors.
It took a while but I got it done January 2005.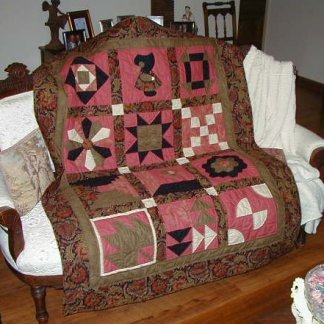 This is a quilt I made during a one year "technique of the month" class.
(click for larger version and closeup of heart block)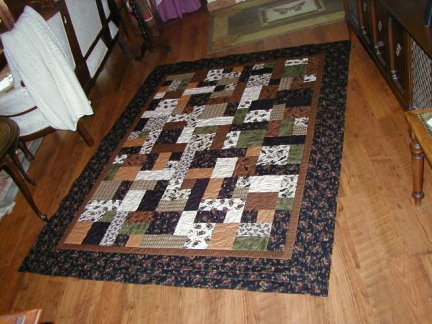 Made for my nephew Larry when he was undergoing chemotherapy
August 1, 2005
Machine pieced and first free motion machine quilting project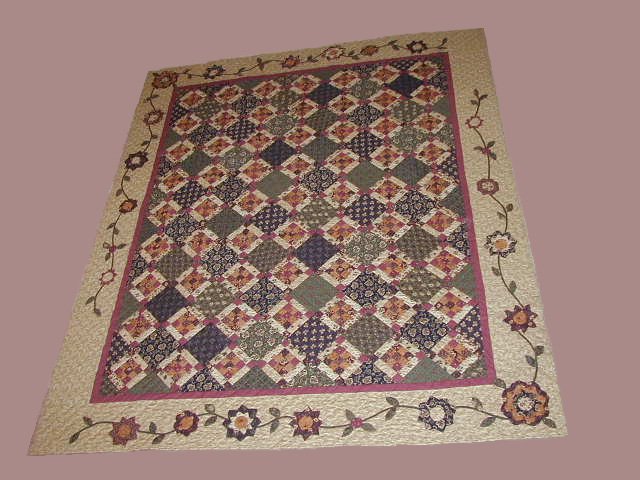 The fabric for this quilt was bought in Vista, CA
on our way to San Diego in May of 2004. Finished December 2005
This was my first try at applique. I am happy with the results.
After our move to Oregon I used this quilt on the dining table.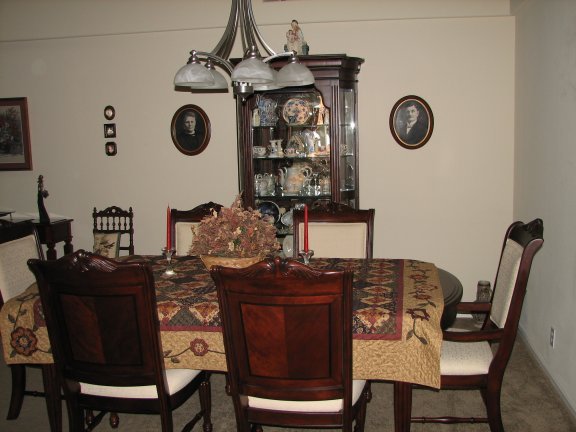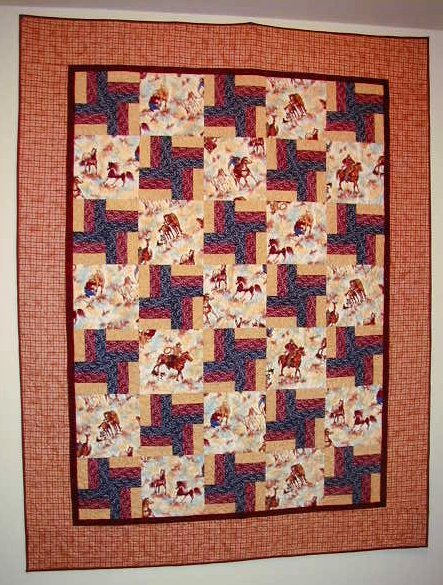 Made for Sarah, Xmas 2005.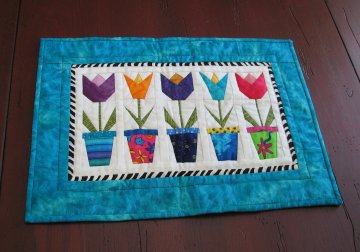 I made the mini quilt on the left for my granddaughter Molly's school art/crafts sale in May 06.
The practice version on the right was eventually finished in August 06 and given to Molly.
The pattern is from the May 2006 issue of Fons and Porter magazine.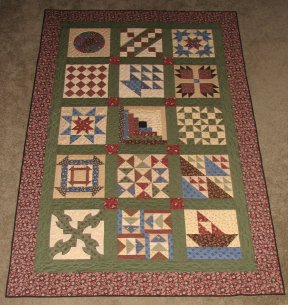 The story of the underground railroad is historic fact, but the idea that quiltblocks were used
to direct slaves on their flight north is legend. Some historians consider this legend fact,
but there is no documentation to support their claims.
An accurate history of the underground railroad can be found in,
"Bound for Canaan" by Fergus M. Bordewich
I started the underground railroad quilt (from the book by Eleanor Burns),
in 2005, in Cameron Park, Ca and completed it on July 8, 2006 in Eugene, OR
It is machine pieced and handquilted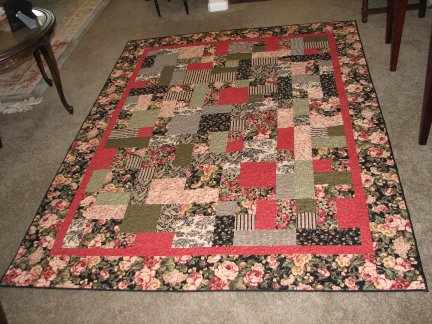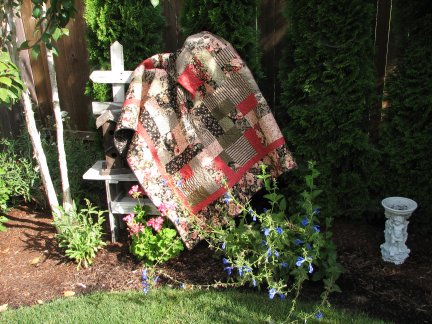 A yellow brick road quilt for my niece as a special gift for a fight well fought, with love.
Machine pieced and quilted. Finished in Eugene, OR on August 16, 2006
She will receive it on Nov. 3, 2006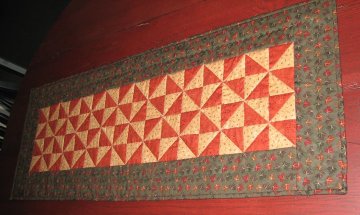 This runner was a kit I got free at a quiltshop. It is another finished UFO (unfinished fabric object).
Machine pieced and quilted. Finished August 18, 2006 in Eugene, Oregon.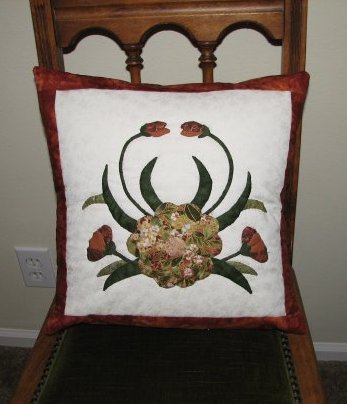 An original applique design by Jill Rixman, of "a Designing Woman".
She was my applique teacher and is a friend from CA.
Her designs are wonderful and I made this one into a pillow. Finished Sept. 18, 2006 in Eugene, OR